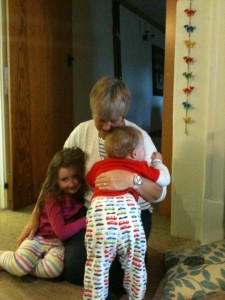 A Doula 'mothers the mother' so that she can mother her child.
The Doula is usually a mother herself.
There are two types of Doula:
1. Labour and Birth Doula
2. Postnatal Doula
A Labour and Birth Doula provides support to the mother throught the labour andbirth of her child. I do not offer this service but you can find a birth doula at www.cambsdoulas.co.uk.
I offer Postnatal Doula services.
Postnatal adjustment into motherhood is a major life transition. Basically, your needs as a new mother would seem simple to define: rest so you can heal, gentle education and reassurance as you gain confidence, nourishing food and drink for yourself, a relinquishing of practical chores to someone else, a place to de-brief and talk about the birth itself and your emotions, and most especially some mothering for yourself. Often, however, these needs are difficult to fulfil.
There are tangible and practical reasons why mothers feel overwhelmed. Extended families that might once have helped out are now far flung, economic demands might keep partners or other family members from being as available or flexible as they might like to be, mothers may have to juggle maternal and wage earning roles earlier and more often. In addition the percent of women having a caesarean birth has increased.
As a new mother/mother-to-be does your list of needs include not only baby essentials but also someone to guarantee you sleep breaks, someone to sit with you and teach you as you learn to nurse your baby, someone to listen wisely and non-judgementally to all your questions and feelings? That is what a postnatal doula does.
Her basic role is to provide non-intrusive, non-judgemental support according to your families needs and wishes. She is there to facilitate your time to settle in, relax and heal, while assuring that the familiar daily household routine remains as anchored as possible. She is there to free you up to do nothing but be with your baby and other family members, or to take the baby so that you can sleep, if that's what is needed. She is the peace of mind factor.
The doula may provide help with any or all of the following services: emotional and moral support, breast/bottle feeding support, teaching or giving help with baby basics, shopping, cooking, light housework, answering the telephone and taking messages, fielding visitors, pet and plant care, errands, help with older siblings, help with baby so that mum and dad can have time together to settle into their new roles. Although she is not there in a medical capacity, she should also be able to keep an eye out for anything out of the ordinary in the mother or baby and suggest when medical referrals might be in order.